On this day in history in 1865, was born Rudyard Kipling.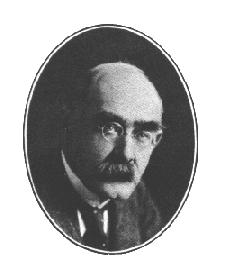 Kipling was a poet and novelist, who glorified imperial expansion and wrote The Jungle Book, a text subsequently bowdlerised and sanitised by Hollywood.
Joseph Rudyard Kipling was born on 30th December 1865 in Bombay, now known as Mumbai, the son of artist John Lockwood Kipling and Alice Kipling nee Macdonald, two of whose sisters were married to painters. The Kiplings were Anglo-Indians that is expatriate British, who had moved to Bombay a year before young Kipling was born. Kipling's parents had courted on the banks of Rudyard Lake, Staffordshire, hence the unusual forename of their son.
At the age of six, Kipling was taken to Lorne Lodge, a foster home at Southsea, Portsmouth, a repressive institution for the children of expatriates, which he later described in his story Baa Baa, Black Sheep. In 1878, Kipling went on to the United Services College at Westward Ho, Devon, a mediocre boarding school, which formed the basis for his schoolboy stories Stalky & Co - by far one of my most favoured boyhood stories - along with others such as The Jungle Book, Kim, Captains Courageous, Plain Tales from The Hills, Soldiers Three and the Just So Stories.
Soldiers Three was a collection of stories setting forth certain passages in the lives and adventures of Privates Terence Mulvaney, Stanley Ortheris, and John Learoyd:
"The God from the Machine"
"Private Learoyd's Story"
"The Big Drunk Draf'"
"The Solid Muldoon"
"With the Main Guard"
"In the Matter of a Private"
"Black Jack"
Of course, who could omit that marvelous Kipling yarn - "The Man Who Would Be King" - made into a movie starring Michael Caine, Sean Connery and Christopher Plummer.
In 1882, Kipling contrived an escape from this institution by obtaining a position as a journalist in India, which he considered to be his true home. He wrote of his home city, Bombay:
Mother of Cities to me
For I was born in her gate
Between the palms and the sea
Where the world-end steamers wait.
Kipling worked in Lahore, now in Pakistan, for seven years for various publications, all the while observing the spectacle of his native India, and writing prose sketches and light verse. In 1886, he published the verse collection Departmental Ditties and in 1888, the short story collection Plain Tales from the Hills. In 1889, he published six volumes of short stories, including Soldiers Three, The Phantom Rickshaw and Wee Willie Winkie.
The success of his publications was outstanding, so much so that he was persuaded to move to London, where his career as a writer would flourish. In 1892, he brought out the verse collection Barrack-Room Ballads, containing the poems Mandalay, Gunga Din, and Danny Deever. Much of his work would now be considered racist. He referred to native Indians, and to foreigners in general, as 'lesser breeds', but this was in keeping with the mores of the time, in an age when the British considered themselves of a greater standing than other nations. Kipling bore no malice towards the Indians and even showed a degree of reverence in the words 'You're a better man that I am, Gunga Din'.
In 1892, Kipling married American, Caroline Balestier, and the couple moved to Vermont in the United States. Their sojourn in America was not a pleasant one. The Americans did not like the Kiplings and the Kiplings found their neighbours objectionable. Perhaps Kipling considered that the American colonists were a 'lesser breed' like the Indians. The Kiplings consoled themselves by taking extended vacations in South Africa, where British imperialism flourished. They continued to live in America and had three children, and Kipling produced some of his best work including The Jungle Book. In 1896, Anglo American relations reached a new low with a crisis in Venezuela and it seemed that war would break out between Britain and the United States. The Kiplings packed up and left for London in a hurry.
In 1902 Kipling bought a home in Burwash, Sussex, in which he lived until his death. Sussex was the backdrop for much of his later writing, including Puck of Pook's Hill and Rewards and Fairies, works which presented a view of English history that was more emotional than factual.
In 1907, Kipling received the Nobel Prize for Literature. He was offered a knighthood and the office of Poet Laureate but refused both. In 1915, his son, John, was killed at the Battle of Loos. This tragedy inspired Kipling to join the Imperial War Graves Commission, now the Commonwealth War Graves Commission, an institute responsible for maintaining British cemeteries. One of Kipling's contributions to the project was his selection of the biblical phrase 'Their Name Liveth For Evermore', a maxim found on war memorials throughout the land.
Kipling died aged 70 on 18th January 1936 and is buried in Poets Corner at Westminster Abbey.
This is an cropped version of the
photograph of General Sir Ian Hamilton
at Rudyard Kipling's funeral,
1936. Hamilton was a close personal
friend of the poet and author.