I said I would post some images of my pumpkins. These are a few I've harvested so far - mainly 'cos they were getting in the way! I gave the biggest Kent pumpkin away to a neighbour:
The vine
Its even grown around the back of the shed and up the school fence!
This is a Choko vine - its just getting flowers
- I think the frosts will beat the fruit.
This is a sweet potato plant. I've put it under
shelter in the hope the frosts wont kill it (too soon)!
We are changing the backyard entertainment area. We used to have a brush fence screen but it has slowly deteriorated. This is a picture of it last summer. It's behind the bird bath:
We pulled it out and are removing the pavers:
The steel fabricator made us a new frame and installed it:
We are going to fix bamboo screening to the outside of it, install a concrete 'cutting edge' on the grass side of the structure and layer the base area with weed cloth and top with river pebbles and put two large rectangular pots in the corners with vines in them. Rhonda likes
clematis, Clematis aristata 2: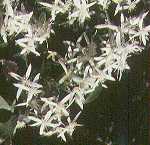 and, gum vine,
Aphanopetalum resinosum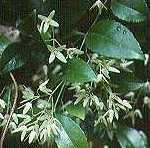 I like jasmine - the
Jasminum polyanthum
or "Star Jasmine", for its sweet perfume, especially of an evening. Some people do not like the perfume of jasmine and find it 'stifling':