Sydney - 1950's.
"Mum and Dad were struggling to make ends meet in the early 1950's, so Dad went into the 'barter/exchange' market. He had located a few people who lived mostly in the inner city area who wanted fresh fruit, vegetables, eggs and the odd free-range chicken (killed and dressed) in exchange for things like fresh sea food for the family and piano and violin lessons for my talented sister, etc, but the problem was getting our products to them. It was suggested by Dad that since I was such an adventurous lad I could deliver the trade materials to pre-arranged locations on certain dates and time.
Old Sydney Markets, Haymarket, Sydney
This meant at least a weekly trip to the Sydney Fish Markets, then located in the Haymarket area of Central Sydney just adjacent to Dixon Street and Chinatown.
Dixon Street Chinatown, today, Sydney
Mum would pack a portmanteau with 'goodies', march me up to the tram stop at 6am and put me on a tram to Sydney. I was given 'vouchers' (Transport Dept money tags – Dad worked for the Tramways) to give to the conductor for my fare in and back. I would alight at Ultimo, adjacent to the Technical College and the Haymarket and walk up to the City Fish Markets where I met a manager and handed over the portmanteau where I was told to wait a half an hour. This gave me thirty minutes to explore the fruit and vegetable markets and Chinatown.
Thirty minutes - a lifetime for a 10-12 year old boy! So much to see and experience, so many sights and sounds and different lifestyles. The Fruit and Vegetable exchange with horse and carts and motor lorries shifting the produce of Sydney through merchants who occupied little holes in the wall. The wet, smelly fish markets, the auctioneers calls and the bidding by the buyers or their agents. The little Chinese food stalls at Dixon St on Darling Harbour that sold all sorts of foods with exciting smells and exquisite tastes. The wharves where the coastal steamers docked and offloaded their precious cargoes only to pick up merchant goods for the return trip. The small tea houses where many a deal was struck over pots of steaming hot tea.
The inscrutable oriental, always smiling, always selling.
Quong Tart's Elite Tea House - Queen Victoria Building
Mei Quong Tart - an industrious Chinese businessman of pre-WWII Sydney
I found this a fascinating place, full of wondrous things – I even exchanged 'greetings' with Chinese shop owners – then I would return and collect the portmanteau (by then full of varied products from the fish market floor) and catch another tram back to

Ryde, arriving back near home about 7.45am. Mum would meet me, take the portmanteau and give me my schoolbag and lunch and send me on my way to school.

Central Railway Square - catch a tram to anywhere!
Now this process had some interesting 'spin-offs'. The conductors were regulars and knew if an Inspector was on their route, so often they would not bother with my travel coupons. I was able to stockpile a heap of coupons which I could use to get myself by government transport to the Sydney beaches – Bondi, Clovelly, Coogee, Maroubra, etc. so that my 'range of absence activities' became extended. One day dad was coming home and spied me at a city tram stop. That night there was hell to pay in our house as explanations were demanded. Afterwards my older sisters wanted to know about the beaches - were they safe, were there sharks, and mostly, were there life guards! As a result they pestered mum and dad to take us to the beach of a weekend, so I started a family tradition - a weekend day trip to Bondi, complete with pre-packed picnic lunches of sandwiches, cakes, fruit and cordial (tea for mum and dad - there were 'free' hot water boilers strategically placed around the beach parkland areas.)
I loved the beaches and quickly took to body surfing and, if I could save up the money, hire and inflatable rubber body surfer to ride the waves on.
Long board surfing was just in vogue and we would sit and watch the men on their long boards surfing the waves.
Long boarders - Pre WWII
Grey Nurse Shark - now listed as an endangered species in Australian waters
It was exciting at times when a shark was spotted and the alarm bell was rung and everyone was called out of the water as the life boat was launched to chase off the intruder. Sometimes some swimmers would get into trouble and we would watch the life guards go through their 'Belt and Line' rescue drill and pull swimmers back on to the beach.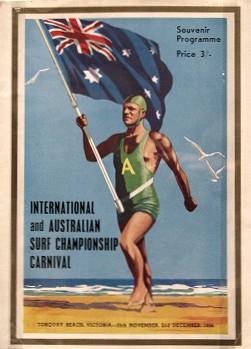 Surf Carnival poster advertisement - Sydney 1956
Surf Carnival 'March Past' - mid 1960's
Sometimes they needed to have the water pumped out of their lungs and we would struggle for a vantage point in the surrounding crowd of onlookers to watch this marvelous piece of precision resuscitation.
Surf Carnivals and parades. Beach sprints and surf ski races. Ice cream and sugary soda drinks - a strawberry spider, an ice cream wafer. Ferry rides across the harbour and rolling through Sydney Heads aboard the Curl Curl or the Dee Why - sunburnt faces and necks on the ride home on the bus, trying to find a seat on the shady side of the compartment.
Truly, those were the days of my youth!"